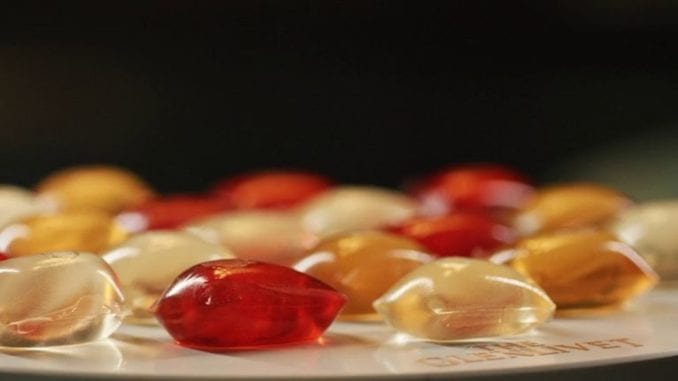 A Whiskey Capsule Collection?
Missed the Tide Pod phase? Don't worry, because there's now an adult (and non-deadly) version to enjoy.
Have you ever wanted to drink whiskey on the go? Ever thought, "Wow, I wish I could drink a cocktail in a small dime-like bag!" No? Well that makes sense, this isn't an infomercial marketing a random and nearly useless product. Instead, it's an article talking about how the internet is groaning over a new product.
Upscale whiskey brand The Glenlivet is trying to connect with the boxed wine community by releasing a new "Capsule Collection." The product allows consumers to pop a pod of alcohol directly into their mouths for some hands-free drinking. And yes, that means that the bags where these alcoholic drinks, which range in three new cocktail recipes, come in are biodegradable and edible. In fact, they're made of seaweed.
"The Glenlivet has released an original whiskey drinking experience," states a promotional video. "A collection of edible cocktail capsules made from seaweed, meaning no need for a glass, ice, or a cocktail stirrer."
But of course, the internet had a thing or two to say about these bags. Namely, that they look too similar to Tide Pods.
If you don't remember or missed it, last year saw the insanely stupid Tide Pod Challenge. Teenagers and youth started popping the laundry detergent pods into their mouths like crazy. Health experts, and the general adult populace, then told teens to stop it. After all, the detergent is poisonous and nonedible.
https://twitter.com/JerseyJoe74/status/1180438177552764928?ref_src=twsrc%5Etfw%7Ctwcamp%5Etweetembed%7Ctwterm%5E1180438177552764928&ref_url=https%3A%2F%2Fwww.menshealth.com%2Ftrending-news%2Fa29374931%2Fglenlivet-capsule-collection-edible-whiskey-tide-pods%2F
Teens? I'm 37.

— Whiskey Jesus (@BoozeWizard) October 5, 2019
This is actually a pretty great accessible option for folks who want to drink @TheGlenlivet who may have difficulty opening bottles & pouring! #NoGlassRequired https://t.co/6YiWaKHcVt

— Alice Wong 王美華 (@SFdirewolf) October 5, 2019
But despite the similar look, or perhaps in benefit to it, The Glenlivet has gotten a lot of attention for their product. And, the company insists that the Capsule Collection is a legitimate product. Though, it's a limited one.
Related: Three good whiskeys to consider 
Yes, it seems that people who want to try these alcoholic and totally edible non-Tide pods will have to get some before October 13. The bite-sized packets are only being offered for London's Cocktail Week until that date.
So grab a bundle this week while you can!