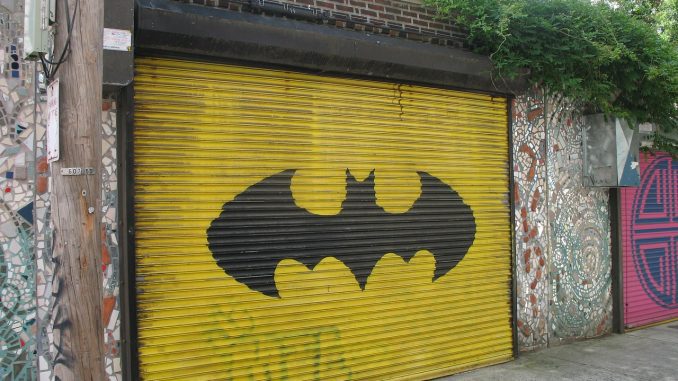 Michael Keaton as Batman
Michael Keaton might be returning to the screen as Batman. Was he the best actor to ever portray the DC Comics superhero? For a huge crop of Millennial fanboys (myself included), Michael Keaton is Batman.
The 1989 Batman movie took up a huge chunk of my childhood memory banks with that signature Tim Burton production design, the slick black Batman costume, Jack Nicholson's Joker, Prince's soundtrack, and Michael Keaton's amazing portrayal of Bruce Wayne/Batman. It was an instant classic.
Michael Keaton cut his own cloth in the role. He was sophisticated and aloof as Bruce Wayne. He was cold and capable as the dark knight. Keaton brought the same level of physicality and immersion to the role of Batman as he did to Beetlejuice, another stellar character role for him.
Far from the smirky-faced George Clooney Batman or the husky-voiced, angry Christian Bale Batman, the way that Michael Keaton managed the complex emotional palette of the character was purely sublime.
Was Michael Keaton the First On Screen Batman?
Going first isn't always the best strategy. You're breaking new ground and mistakes are bound to be made, mistakes that others that come after you can learn from and adapt. Many people credit Michael Keaton as being the first cinematic Batman, but he wasn't the first man to wear the cape and cowl on screen.
Lewis Wilson played Batman in 1943. Robert Lowery played Batman in 1949. Of course, Adam West had a long tenure as Batman between the years of 1966 and 1968. He starred in the classic TV series and the movie based on the show.
Batman took a big break from the screen after that. Warner Bros teamed up with Tim Burton in 1989 to produce the Batman movie that stars Michael Keaton in the titular role. Given the amount of time that passed between the classic Batman era and the Tim Burton cinematic films, lots of people call Michael Keaton the first Batman.
He also started the long series of major motion pictures that would follow. Everything between Batman (1989) and Batman & Robin (1997) can be lumped into the same group of WB superhero films. So, Michael Keaton did set the precedent for the modern cinematic portrayal of Batman. He starred in Batman Returns but passed the role onto Val Kilmer for the third Batman film.
Michael Keaton became the gold standard that Val Kilmer, George Clooney, Christian Bale, and Ben Affleck were constantly competing against. People were less concerned that those actors stayed true to the comic book character and more interested in how he stacked up against Michael Keaton.
What Made Michael Keaton's Batman So Good
Michael Keaton had the unique opportunity of taking on the role of a superhero who hadn't been seen on the screen in more than a decade. That gave him the freedom to define Bruce Wayne and Batman to some extent. Batman was brand new again.
Michael Keaton decided to change his tone of voice between characters. He spoke in a deeper voice as Batman and a lighter tone for Bruce Wayne. Nearly every actor to play the role followed suit and did the exact same thing.
Michael Keaton didn't study the source material all that much before production began on the film. He had a copy of "The Dark Knight Returns" graphic novel to ground him in the character, but largely went off his own instincts.
According to IMDB, fans of the Batman comics were furious that Michael Keaton was cast in the role. They wrote thousands of protest letters to Warner Bros. It's easy to see why they were confused. Keaton was set to portray a serious martial arts master and his last role was a mental patient in The Dream Team comedy.
Yet, Keaton dove into the role headfirst. It was a turning point for action films because Keaton wasn't a big muscle guy like Stallone or Schwarzenegger. The batsuit gave the appearance of a toned physique and audiences were so captivated by the film that Michael Keaton's lack of muscular virtue was completely overlooked.
Related: How to Maintain Muscle Mass as You Age
Michael Keaton couldn't hear a thing when he wore the batsuit. It made him become much more withdrawn. Combined with Keaton's mesmerizing eyes, the claustrophobic batsuit made a character that would be emulated for decades to come.
Previously, Michael Keaton worked with Tim Burton on Beetlejuice and the two had a professional rapport. They worked well together and both artists collaborated on the character's portrayal in the Batman film. This was the first true dark comic book movie and it set precedent for DC films that would follow.
Will Michael Keaton Return as Batman?
The first talks of Michael Keaton to reprise his role as Bruce Wayne/Batman circulated online about 10 years ago. Fans were eager for Keaton to play an elder Bruce Wayne in a futuristic film version of Batman Beyond. There is an animated movie for Batman Beyond and the Bruce Wayne character bears a striking resemblance to Keaton.
A Batman Beyond feature film hasn't been greenlit but Warner Bros has it in their arsenal. Michael Keaton has been confirmed to play Batman again in the 2022 movie The Flash. He's also going to play Batman again in the upcoming Batgirl film.
As the Warner Bros timeline progresses, Bruce Wayne has gotten much older, and he's passed the torch onto younger caped crusaders and superheroes. This makes a Michael Keaton return seem much more natural. He most likely won't be zipping across Gotham and kicking butt, but fans will love to see Keaton drop some catchphrases as he coaches the next generation of DC superheroes.
Could the New Era Batman Be the Best One Yet?
The Batman (2022) is a reboot of the Batman franchise that focuses on the life of a younger, angrier Bruce Wayne. The role is played by Robert Pattinson. Fans of the DC superhero have high hopes for Pattinson's portrayal of Batman. It's a completely different approach to the caped crusader.
Warner Brothers initially had Ben Affleck to write, direct, produce and star in the role. Affleck was dissatisfied with his own script and backed out entirely around 2017. That left the door open for a new director (Matt Reeves) and a new Batman (Robert Pattinson). Warner Bros already has two sequels planned and series spin-off for HBO.
Related: Ben Affleck Says He Stopped Being Batman to Fight Alcoholism
There's plenty of field to play for Robert Pattinson as the new Batman. If the trailers and early fan reactions are any indicator, Pattinson could be a contender for the best actor to play Batman. Like Keaton, Pattinson has a mandate to take the character in a whole new direction.
Related: The New Batmobile is the Real Star of the Batman Film
Michael Keaton's Batman Legacy
Whether or not Michael Keaton was the best Batman, Hollywood owes him a huge debt of gratitude. His portrayal of Batman in the two Tim Burton films greased the rails for all the big budget superhero films that followed. Michael Keaton helped to establish an audience for superheroes on the big screen. Before Keaton, superheroes wore tights and underwear on the outside.
These characters aren't new. Batman has been around since the 50s as a comic book character and Michael Keaton wasn't the first actor to portray him onscreen either. Yet, it can't be argued that after Michael Keaton played Batman in 1989, people were clamoring for more superhero cinema.