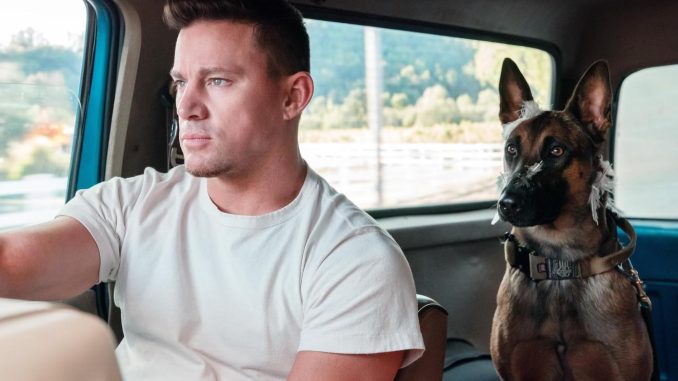 Movie Review: DOG with Channing Tatum
Are you wondering if the movie DOG starring Channing Tatum is worth watching? Thinking of streaming this film onto your TV or pad? Should you spend the money?
Last weekend, I found myself asking these same questions as I was swiping through programs on my smart device. At some point, I came across the movie while going through Google Play Movies. The price to watch was $19.99.
Keep in mind, at the time I was considering this movie, this same film was also playing at my local theater, with a ticket price of around $16.00. Since I was hanging with my friend, the price would come out to be $32.00. Throw in popcorn and soda, the cost would easily have gone up to $45.00, at least in DC.
The decision was easy. This movie would be streamed. But was it worth spending the money? The short answer is yes – at least I thought so!
Channing Tatum
, the main star of this movie, plays the part of U.S. Army Ranger Jackson Briggs. He is asked by his commanding officer to bring a dog named Lulu, a Belgian Malinois military working dog, down the Pacific Coast from Joint Base Lewis–McChord in Washington to Nogales, Arizona to attend her handler's funeral.
Plot
During the trip, Briggs starts facing his struggles with his post-traumatic stress disorder and how this has impacted his ability to establish and maintain close relationships. One of those relationships happens to be with Lulu, who also happens to struggle with the canine version of PTSD.
I won't give away the candy store here and give you a scene-by-scene spoiler of the film. You can get an idea of the tone and tenor of this movie by watching the trailer.
What I liked
That said, the reason I liked this film was because it gives everyday folks like me a meaningful perspective of PTSD on servicemembers and new insight on the issue of canine PTSD. To keep it real with you, I never even knew such a thing existed.
There were numerous funny parts of the movie, like when Briggs and Lulu worked a scam to get a free luxury hotel for a night. And there were touching aspects that were woven into the fabric of the film, such as the unfriendly relationship Briggs and Lulu had at the start of the movie and how it evolved to something much closer as time went on.
Should I watch?
So, to answer the question – is this movie worth watching? Should you spend money on tickets (or access to stream) DOG with Channing Tatum? All I can tell you is I thought it was a great flick and held my attention for the entire 101 minutes.
At some point, this movie will likely pop up on a streaming service, such as Netflix or Hulu. But if you don't want to wait for that to happen, you can always check it out now via Google Play Movies or Apple TV.
Did you watch DOG? If so, what were your impressions? Please leave your thoughts in the comments section below.